The seamless blend of delightful flavors, flawless service, and an opulent atmosphere that characterizes the luxury fine dining experience in Southern India remains unmatched. From the historic streets to the bustling cityscape, Hyderabad proudly offers an unmatched selection of top-tier restaurants. Get ready to be captivated by the culinary expertise of master chefs who effortlessly combine tradition and innovation in every dish. Embark on a gastronomic journey with Taj Deccan and let these exceptional dining establishments leave an unforgettable mark on your taste buds and memories.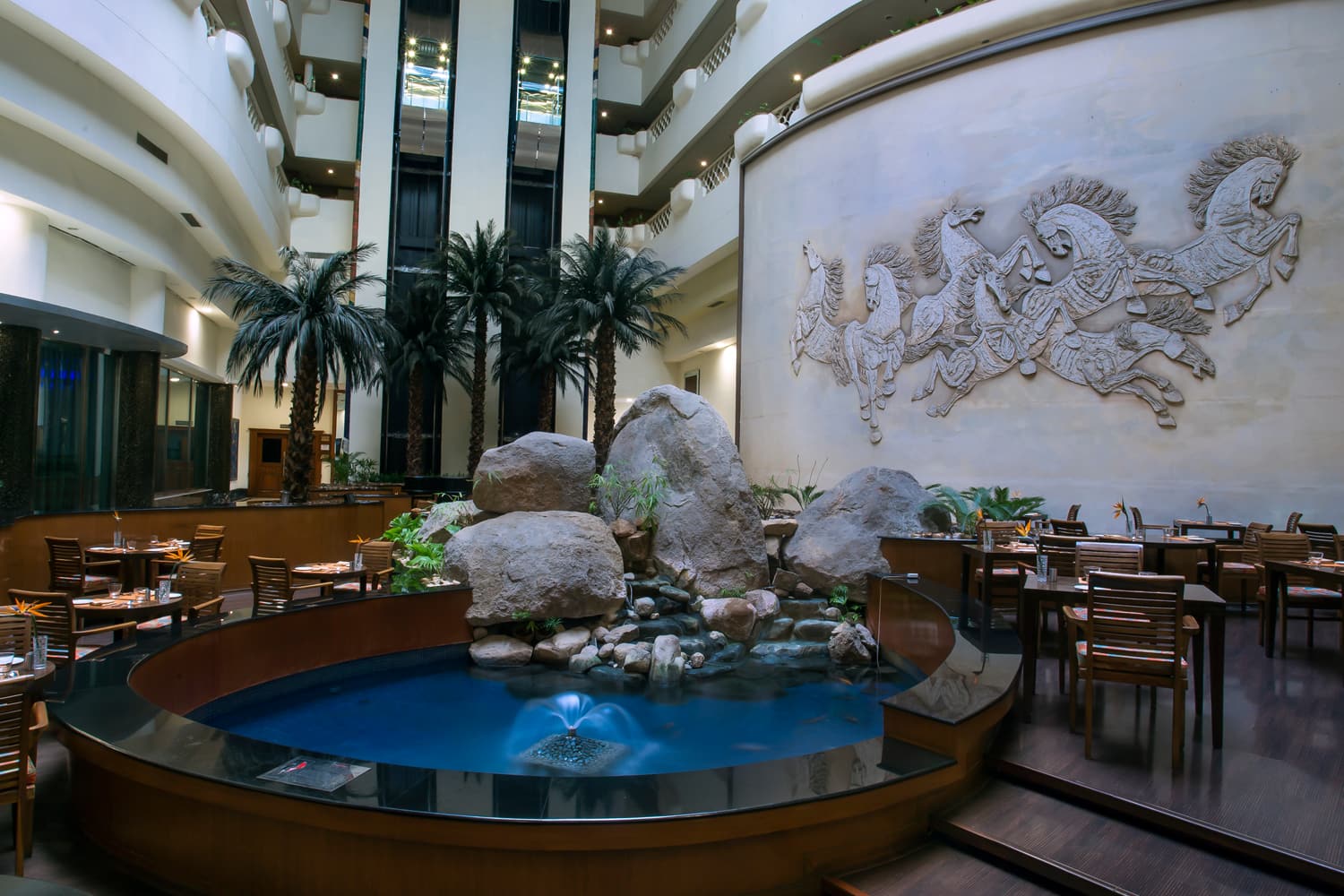 A Breathtaking Dining Experience at The Taj Deccan
From laid-back, all-day dining venues to upscale, elegant establishments, patrons can anticipate a diverse range of mouthwatering dishes and refreshing beverages. Taj Deccan provides a unique dining adventure, delving into the subtleties of the best Indian and international culinary traditions, featuring classic and modern favorites. Indulge in some of the most exquisite cuisines you've ever savored at the best restaurants in Hyderabad.
Atrium Bar
Enjoy a worldwide selection of wines, liquor, and cigars in a comfortable and upscale environment while listening to a soundtrack that includes Chinese, rock, and pop songs. This area creates the perfect setting for unwinding by fusing the best entertainment with the most relaxation. The Taj Deccan's Atrium Bar, located in the Atrium lobby, has a serene atmosphere accentuated by its excellent musical choices. The bar's extensive beverage menu, featuring popular cocktails and mocktails, will elevate your spirits. Raise a toast to the evening at Hyderabad's premier lounge.
Syn Asian Grill and Bar
When searching for the finest Asian dining establishments in Hyderabad, your quest ends at Syn. This grill and bar represent a captivating fusion of Thai, Vietnamese, and Japanese culinary delights, all within an enchanting ambiance. It has an interactive sushi and Teppanyaki kitchen, a diverse menu, a vibrant island bar, and Synfresco – the adjacent outdoor dining area surrounded by a breathtaking rock garden- creating an unprecedented dining encounter in a city renowned for its culinary heritage.
Arena
This global all-day dining establishment in Hyderabad presents a curated array of dishes from around the globe, making it the perfect venue for a quick breakfast, a stylish business lunch, or an intimate dinner. No matter the occasion, we have culinary creations from various corners of the world to satisfy your cravings. Arena, located in the lobby's center, is open 24/7, making it the perfect option for eating out, holding business meetings, or hosting family gatherings at any time, day or night.
The restaurant has an enormous buffet with interactive live cooking stations serving food worldwide for breakfast, lunch, and supper. Arena also tempts customers with a tempting à la carte menu, making it a great place to indulge on the weekends, particularly with its Saturday midnight buffet.
Spice Junxion
Spice Junxion, a specialty restaurant, offers a contemporary blend of South Indian cuisine and Indian coastal flavors, providing a culinary journey that revisits the aromatic regions of the South and immerses you in a world of vibrant spices, where colors, fragrances, and tastes come to life. Include a Spice Junxion dining experience during your Taj Deccan stay!
Nestled at the heart of the lobby, Spice Junxion is an excellent choice for dining out, conducting business meetings, or hosting family gatherings for memorable lunches or dinners. You can enjoy your meal with a view of the lush green lawn or opt for a more intimate dining experience in one of our private dining rooms.
Our master chefs curate a menu that celebrates the lesser-explored culinary treasures of the region. They take you on a gastronomic adventure through the winding streets of North Kerala, encompassing Moplah and Syrian cuisines. Alternatively, if you prefer, indulge in the rare and delectable Chettinad delicacies to delight your taste buds.
Conclusion
Within the captivating domain of Hyderabad's finest luxury dining venues, the marriage of culinary craftsmanship and lavishness harmonizes with refined sophistication, embracing the discerning tastes of patrons. Each restaurant in Hyderabad leaves an enduring impression, ranging from colonial-inspired sanctuaries to modern marvels, beckoning guests on an unforgettable gastronomic expedition through the world of sumptuous flavors. If you seek an extraordinary culinary adventure to gratify your taste buds and exhilarate your senses, the luxury restaurants of Hyderabad are something you shouldn't miss out on.